Universal Confession of Faith (Karl von Echartshausen)
from the online program Hymns of God, Cosmos, Humanity
DOWNLOAD MYSTERIES AND HYMNS OF GOD, COSMOS, HUMANITY (PDF)
I believe in a creative firepower out
of which heaven and earth
arose or the fleeting and the firm.
I believe in a light begotten by this firepower,
the ruler over the world
or the omnipotent power in nature.
This pure light that has issued
from the fire is received by the spirit
and reveals itself in the purest form.
However, it has to suffer in the realm
of impurity and be separated,
killed, and buried in the earth.
Then the light descends into the innermost
of matter, and after three periods,
that is, after three unions of three spiritual
powers with three purified forms,
it awakens once more to life.
It exalts itself to highest perfection as a
shining light power of the almighty fire.
After reaching this highest perfection,
it is able to make everything dead alive
and everything imperfect perfect.
I believe in and know the spirit of light that
emanates from fire and warmth;
the holy, general, true community of light,
the community and union of those with the faculty of light;
the healing of illnesses and the extinction of misery;
the renewal of our being;
as well as the highest felicitousness of life.
DOWNLOAD MYSTERIES AND HYMNS OF GOD, COSMOS, HUMANITY (PDF)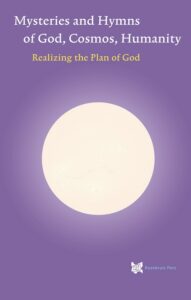 DOWNLOAD MYSTERIES AND HYMNS OF GOD, COSMOS, HUMANITY (PDF)
ORDER MYSTERIES OF GOD, COSMOS, HUMANITY AT ROZEKRUISPERS.COM