O fire of the Spirit (Hildegard von Bingen)
from the online program Hymns of God, Cosmos, Humanity
DOWNLOAD MYSTERIES AND HYMNS OF GOD, COSMOS, HUMANITY (PDF)
O fire of the Spirit, the Comforter,
Life of the life of all creation,
Holy are you, giving life to the Forms.
Holy are you, anointing
The dangerously broken;
Holy are you, cleansing the fetid wounds.
O breath of sanctity,
O fire of charity,
O sweet savor in the breast
And balm flooding hearts
With the fragrance of virtues.
O limpid fountain,
in which it is seen
how God gathers the strays
and seeks out the lost:
O breastplate of life
and hope of the bodily frame.
O sword-belt of honor:
Save the blessed!
Guard those imprisoned
By the foe,
Free those in fetters
whom divine force wishes to save.
that penetrated all,
in the heights, upon the earth,
and in all abysses:
You bind and gather all people together.
From you clouds overflow, winds take wing,
stones store up moisture,
Waters well forth in streams –
and earth swells with living green.
You are ever teaching the learned,
made joyful by the breath
of Wisdom.
Praise then be yours!
You are the song of praise,
the delight of life,
a hope and a potent of honor,
granting rewards of light.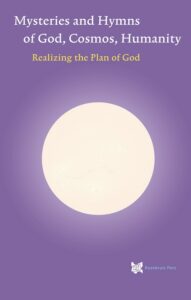 ORDER MYSTERIES OF GOD, COSMOS, HUMANITY AT ROZEKRUISPERS.COM