Live is love ( Mikhail Naimy)
from the online program Hymns of God, Cosmos, Humanity
DOWNLOAD MYSTERIES AND HYMNS OF GOD, COSMOS, HUMANITY (PDF)
This happend to me, my God
before I understood
the grandeur and unconditionality of love,
and realized that she is life.
That life is to love
and that there is no boundary
between the two
and no difference exists either.
And now there is nothing
which is more attractive to me than love.
And I wish she alone filled the treasury in my head
and that she would magically seal her.
It would change all of its content
in transparent atoms – like the ether –
closely connected through the elixir of love;
and they are moved by nothing else
and radiate nothing but love.
Then there are no highs and lows anymore,
nor sadness that touches the heart
as if pinching with iron tongs,
nor joy that bursts the heart,
no more hours of expectation
and labor pains which produces the twins of suffering,
no more pride in fortune, fame or honor
and no more fear for the impermanence of these things,
no more vanity for big and small victories
and no depression after defeat,
no longer hooked on a moment of joy
or flee from sad moments,
no more regrets about the past
or clinging to a moment of happiness,
and no more fear of situations where you can end up.
No more eye settling on the one
while turning away from the other, no more ear,
happy with a beautiful voice but excited by another,
no more hands that touch with silk when a mercy goes down,
while throwing off a hairy garment,
no more tongue who enjoys the taste of honey
and hates the bitter cucumber,
no more nose sniffing musk
and turning away from the polecat flock.
No more high and deep, no before and after,
no 'I' and no 'other', no agreement or difference
of opinion over all that exists in heaven and on earth,
but instead a mysterious unit, holy and eternal,
every concept and description beyond,
in which all contradictions dissolve,
beginning and end, times and distances;
a unity that is unchanging and eternal,
without participants – and that is love.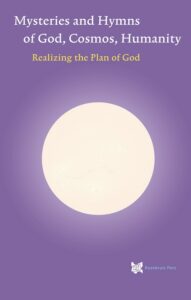 ORDER MYSTERIES OF GOD, COSMOS, HUMANITY AT ROZEKRUISPERS.COM