The 22 hymns below are published in part 2 of the book
Mysteries and Hymns of God, Cosmos, Humanity 
Hymn to the Sun (Akhenaton)
The Emerald Tablet (Hermes Trismegistus)
No one has authority over the One (The Secret Book of John)
Prayer of thanksgiving (Nag Hammadi)
Ode to Wisdom (Wisdom of Solomon)
Universal Confession of Faith (Karl von Eckartshausen)
Hymn to Ahura Mazda (Henry van Dyke)
Testimonies by Mani (Mani)
O fire of the Spirit (Hildegard von Bingen)
The love song of the nymphs (The Alchemical Wedding)
Life is love (Mikhail Naimy)
The song of the reed flute (Rumi)
Gitanjali (Rabindranath Tagore)
Salat (Inayat Khan)
The Lord's Prayer (Matthew)
The high priestly prayer (John)
Prayer of Paul the Apostle (Nag Hammadi)
Hymn of praise at an initiation ritual (Nag Hammadi)
The Nuctemeron (Apollonius of Tyana)

Rich perspectives (Zarathustra)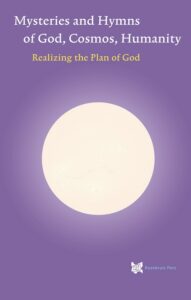 ORDER MYSTERIES OF GOD, COSMOS, HUMANITY AT ROZEKRUISPERS.COM
ORDER MYSTERIES OF GOD, COSMOS, HUMANITY AT AMAZON.COM
My friends,
Take note of the things around you
and amidst which you live and you will experience
that God, who has so formed it, is an artist
before whom we can only stammer,
before whom we reverently kneel.
The one we can only worship in ecstasy
and thank him for us being here not just by chance.
Thanking him that we were created in his image and his likeness.
Thanking him for designing his will for us
in the firmament through its planets and solar systems –
that he has laid down his laws around us.
It is our honor to honor him –
by taking note of all the wisdom that he wants to give,
that he has brought forth for us.
Z.W. Leene,The fiery glow of ascent
ORDER MYSTERIES OF GOD, COSMOS, HUMANITY AT ROZEKRUISPERS.COM
ORDER MYSTERIES OF GOD, COSMOS, HUMANITY AT AMAZON.COM