Prayer of thanksgiving (Nag Hammadi)
from the online program Hymns of God, Cosmos, Humanity
DOWNLOAD MYSTERIES AND HYMNS OF GOD, COSMOS, HUMANITY (PDF)
We give thanks to Thee!
Every soul and heart is lifted up to Thee
O undisturbed name honored with the name
'God' and praised with the name 'Father',
for to everyone and everything comes the fatherly kindness
and affectionand love and any teaching there may be that
is sweet and plain, giving us mind, speech,and knowledge:
mind so that we may understand Thee,
speech, so that we may expound thee,
knowledge so that we may know Thee.
We rejoyce because Thou hast shown Thyself.
We rejoyce because while we were in the body.
Thou hast made us divine through thy knowledge.
The delight of the man who attains to thee is one thing:
that we know Thee.
We have known Thee, o intellectual light.
O life of life, we have known Thee.
O womb of every creature, we have known Thee.
O womb pregnant with the nature of the Father,
we have known Thee.
O eternal permanence of begetting Father,
thus have we worshipped thy goodness.
There is one petition that we ask:
we would be preserved in knowledge
And there is one protection that we desire:
that we not stumble in this kind of life.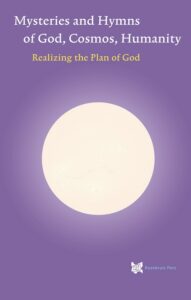 DOWNLOAD MYSTERIES AND HYMNS OF GOD, COSMOS, HUMANITY (PDF)
ORDER MYSTERIES OF GOD, COSMOS, HUMANITY AT ROZEKRUISPERS.COM