Psalms (Bible)
from the online program Hymns of God, Cosmos, Humanity
DOWNLOAD MYSTERIES AND HYMNS OF GOD, COSMOS, HUMANITY (PDF)
– 1 –
Blessed is the man that walketh not
in the counsel of the wicked,
nor standeth in the way of sinners,
nor sitteth in the seat of scoffers:
but his delight is in the law of Jehovah;
and on his law doth he meditate day and night.
And he shall be like a tree planted by the streams of water,
that bringeth forth its fruit in its season,
whose leaf also doth not wither;
and whatsoever he doeth shall prosper.
The wicked are not so,
but are like the chaff which the wind driveth away.
Therefore the wicked shall not stand in the judgment,
nor sinners in the congregation of the righteous.
For Jehovah knoweth the way of the righteous;
but the way of the wicked shall perish.
– 121 –
I will lift up mine eyes unto the mountains:
from whence shall my help come?
My help [cometh] from Jehovah,
Who made heaven and earth.
He will not suffer thy foot to be moved:
He that keepeth thee will not slumber.
Behold, he that keepeth Israel Will neither slumber nor sleep.
Jehovah is thy keeper:
Jehovah is thy shade upon thy right hand.
The sun shall not smite thee by day, nor the moon by night.
Jehovah will keep thee from all evil; He will keep thy soul.
Jehovah will keep thy going out and thy coming in
from this time forth and for evermore.
– 150 –
Praise ye Jehovah.
Praise God in his sanctuary:
Praise him in the firmament of his power.
Praise him for his mighty acts:
Praise him according to his excellent greatness.
Praise him with trumpet sound:
Praise him with psaltery and harp.
Praise him with timbrel and dance:
Praise him with stringed instruments and pipe.
Praise him with loud cymbals:
Praise him with high sounding cymbals.
Let everything that hath breath praise Jehovah.
Praise ye Jehovah.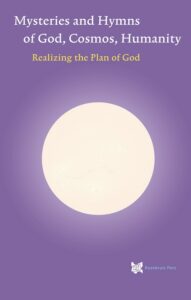 ORDER MYSTERIES OF GOD, COSMOS, HUMANITY AT ROZEKRUISPERS.COM