Songs of repentance (The Gospel of the Pistis Sophia, pdf)
from the online program Hymns of God, Cosmos, Humanity
DOWNLOAD MYSTERIES AND HYMNS OF GOD, COSMOS, HUMANITY (PDF)
3
Light of powers, give heed and save me.
May they who would take away my light,
lack and be in the darkness.
May they who would take away my power,
turn into chaos and be put to shame.
May they turn quickly to darkness,
who press me sore and say:
We have become lords over her.
May rather all those who seek the Light,
rejoice and exult, and they who desire thy mystery,
say ever: May the mystery be exalted.
'Save me then now, O Light, for I lacked my light,
which they have taken away, and I needed my power,
which they have taken from me.
Thou then, O Light, thou art my saviour,
and thou art my deliverer,
O Light. Save me quickly out of this chaos.
8
On thee, O Light, have I hoped …
Leave me not in the chaos;
deliver me and save me according to thy gnosis.
Give heed unto me and save me.
Be unto me a saviour, O Light,
and save me and lead me unto thy light.
For thou art my saviour and wilt lead me unto thee.
And because of the mystery of thy name
lead me and give me thy mystery.
And thou wilt save me from this lion-faced power,
which they have laid as a snare for me,
for thou art my saviour.
And in thy hands will I lay the purification of my light;
thou hast saved me, O Light, according to thy gnosis.
Thou art become wroth with them who keep watch over me
and will not be able to lay hold of me utterly.
But I have had faith in the Light.
I will rejoice and will sing praises that thou
hast had mercy upon me and hast heeded
and saved me from the oppression in which I was.
And thou wilt set free my power out of the chaos.
And thou hast not left me
in the hand of the lion-faced power;
but thou hast led me into a region which is not oppressed.
13
The Light hath become a wreath round my head;
and I shall not depart from it,
so that the emanations of Self-willed may not rob it from me.
And though all the matters be shaken,
yet shall I not be shaken.
And though all my matters perish and remain in the chaos,
those which the emanations of Self-willed see,
yet shall I not perish.
For the Light is with me, and I myself am with the Light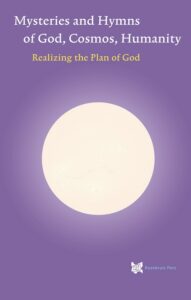 DOWNLOAD MYSTERIES AND HYMNS OF GOD, COSMOS, HUMANITY (PDF)
ORDER MYSTERIES OF GOD, COSMOS, HUMANITY AT ROZEKRUISPERS.COM