The love song of the nympth (The Alchemicial Wedding of Christian Rosycross II)
from the online program Hymns of God, Cosmos, Humanity
DOWNLOAD MYSTERIES AND HYMNS OF GOD, COSMOS, HUMANITY (PDF)
Naught is better here on earth
than matchless, noble love,
whereby all sorrow flees us and
we're made like God above.
Therefore, let us praise the king
that all the sea thereof may ring.
Now we shall ask; you answer.
What unto life has brought us?
'Twas love.
What unto Grace restored us?
'Twas love.
How were we lost on earth?
Without love.
What brings us forth and bears us?
'Tis love.
What succours and consoles us?
'Tis love.
What do we owe our parents?
'Tis love.
What gives them their forbearance?
'Tis love.
Through what power do we conquer?
Through love.
How can we love discover?
Through love.
On what are good works founded?
On love.
How are the two united?
Through love.
So loudly we'll sing;
let our praises ring
in love's honour profound,
that love may abound
in our lord the king
and his consort the queen,
whose souls have gone hence,
through their bodies are seen.
As long as we live
to us God will give
the power His Love to convey,
and in service aspire,
in the flames of love's fire
the two to conjoin once again.
Then shal this great sorrow be
changed to joy eternally,
that abiding happiness
many youthful hearts may bless.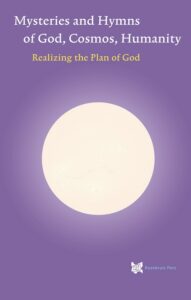 ORDER MYSTERIES OF GOD, COSMOS, HUMANITY AT ROZEKRUISPERS.COM