The Emerald Tablet (Hermes Trismegistus)
from the online program Hymns of God, Cosmos, Humanity
DOWNLOAD MYSTERIES AND HYMNS OF GOD, COSMOS, HUMANITY (PDF)
It is true!
It is certain!
It is the whole truth!
That which is below is equal to that which is above,
and that which is above is equal to that which is below,
in order that the wonders of the One shall be accomplished.
As all things are accomplished out of the One,
through one mediatorship, so they are all
born out of the One by transmission.
His father is the sun; his mother is the moon, the air
has carried it in its womb, the earth was its feeder.
The father of all talismans in the whole world is omnipresent.
His power remains intact, when it is used in the earth.
Divide lovingly and with great insight and
wisdom the earth from the fire, the subtle
from what is gross, dense and congealed.
It ascends from the earth to heaven and again
descends to the earth, and takes unto itself the power
of that which is above and that which is below.
So you will possess the glory of the entire world and
for that reason all darkness will flee from you.
This one is the mighty Strength of all Strengths,
because he will overcome everything subtle
and penetrate everything solid.
So the world was created.
Out of it, in the same way,
wonderful creations will arise.
I have been called the thrice-great Hermes,
because I possess the three aspects of the
doctrine of wisdom of the entire world.
Completed is that which I have said
concerning the preparation of Gold,
the activity of the spiritual Sun.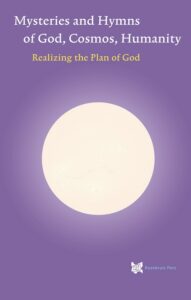 DOWNLOAD MYSTERIES AND HYMNS OF GOD, COSMOS, HUMANITY (PDF)
ORDER MYSTERIES OF GOD, COSMOS, HUMANITY AT ROZEKRUISPERS.COM