☆ CONCERT DE GALA ☆ GROTTE DE LOMBRIVES ☆ 11-09-2021 ☆ 20.30 -21.30 ☆ 
☆ DEUTSCH ☆ ENGLISH ☆ ESPAÑOL ☆ NEDERLANDS ☆
☆ CONCERT DE GALA ☆ GROTTE DE LOMBRIVES ☆ 11-09-2021 ☆ 20.30 -21.30 ☆ 
☆ DEUTSCH ☆ ENGLISH ☆ ESPAÑOL ☆ NEDERLANDS ☆
HESPÈRION XXI
La valeur la plus importante de la musique ancienne réside dans sa capacité, en tant que langage artistique universel, à transmettre des sensibilités, des émotions et des idées ancestrales qui, encore de nos jours, captivent le spectateur. Avec un répertoire allant du Xe au XVIIIe siècle, Hespèrion XXI recherche en permanence de nouveaux points de rencontre entre l'Orient et l'Occident, dans une volonté claire d'intégration et de réhabilitation du patrimoine musical international, notamment dans la zone méditerranéenne et en connexion avec les musiques du Nouveau Monde américain.
Le répertoire d'Hespèrion XXI inclut, entre autres morceaux, des œuvres du répertoire
sépharade, des romances castillanes, des pièces du Siècle d'Or espagnol et de l'Europe
des Nations. Certains de ses programmes de concerts les plus applaudis ont été Las
Cantigas de Santa Maria de Alfonso X el Sabio, La Diàspora Sefardí, les musiques de
Jérusalem, d'Istanbul, d'Arménie ou les Folías Criollas. Grâce au grand travail réalisé
par les nombreux musiciens et collaborateurs qui ont participé à l'ensemble au cours
de toutes ces années, Hespèrion XXI joue encore un rôle clé dans la réhabilitation et la
revalorisation du patrimoine musical, avec une répercussion à l'échelle mondiale. Avec 15 plus de 60 CD édités, la formation donne aujourd'hui des concerts sur toute la planète
et participe habituellement aux Festivals internationaux de musique ancienne.
JORDI SAVALL
Jordi Savall est une personnalité musicale parmi les plus polyvalentes de sa génération. Depuis plus de cinquante ans, il fait connaître au monde des merveilles musicales laissées à l'obscurité, l'indifférence et l'oubli. Il découvre et interprète ces musiques anciennes, sur sa viole de gambe ou en tant que chef d'orchestre. Ses activités de concertiste, de pédagogue, de chercheur et de créateur de nouveaux projets, tant musicaux que culturels, le situent parmi les principaux acteurs du phénomène de revalorisation de la musique historique. Il a fondé avec Montserrat Figueras, les ensembles Hespèrion XXI (1974), La Capella Reial de Catalunya (1987) et Le Concert des Nations (1989) avec lesquels il a exploré et créé un univers d'émotion et de beauté qu'il diffuse dans le monde entier pour le bonheur de millions d'amoureux de la musique.
Au fil de sa carrière, il a enregistré et édité plus de 230 disques dans les répertoires médiévaux, renaissants, baroques et classiques, avec une attention particulière au patrimoine musical hispanique et méditerranéen. Ce travail a été souvent récompensé par de nombreux prix comme plusieurs Midem Awards, des International Classical Music Awards et un Grammy Award. Ses programmes de concerts ont su convertir la musique en un instrument de médiation pour l'entente et la paix entre les peuples et les cultures différentes, parfois en conflit. Nul hasard donc si en 2008, Jordi Savall a été nommé Ambassadeur de l'Union Européenne pour un dialogue interculturel et, aux côtés de Montserrat Figueras, « Artiste pour la Paix », dans le cadre du programme « Ambassadeurs de bonne volonté » de l'UNESCO.
Sa féconde carrière musicale a été couronnée de récompenses et de distinctions tant nationales qu'internationales dont nous pouvons au moins citer le prestigieux prix Léonie Sonning, considéré comme le Prix Nobel pour la musique. « Jordi Savall met en évidence un héritage culturel commun infiniment divers. C'est un homme pour notre temps ». (The Guardian, 2011).
MARC MAUILLON
'Chanteur hors norme, comment mieux définir Marc Mauillon?' (Michel Parouty, Opéra Magazine 02/2017)
Par l'étendue et la singularité de son répertoire, son timbre si reconnaissable et sa diction ciselée, Marc Mauillon occupe une place toute personnelle sur la scène lyrique actuelle. Tantôt baryton, tantôt ténor, ce caméléon déploie et adapte ses couleurs au gré des musiques, des répertoires et des personnages qu'il rencontre. Par exemple : Mozart, Machaut, Monteverdi, Offenbach, Lully, Dupin, Rameau, Debussy, Caccini, Purcell, Poulenc, Strasnoy…
Mais aussi : W. Christie, M. Minkowski, R. Pichon, C. Rousset, A. Altinoglu, J. Savall,
V. Dumestre, H. Niquet, E. Haïm, L. Campellone, M. Pascal, G. Jourdain…
Et encore : L. Hemleb, D. Warner, B. Lazar, I. Alexandre, R. Carsen, J. Mijnssen…
Sans oublier : P. Hamon, V. Biffi, A. Mauillon, G. Coppola, A. Le Bozec…
Depuis la monodie a cappella en solo jusqu'aux grandes formes avec chœur et orchestre comme l'opéra, en passant par la musique de chambre chère à son cœur, il chemine donc joyeusement à travers bon nombre de lieux, langages, époques, styles, personnalités au contact desquels il continue avec passion de trouver sa voix.
ANDREW LAWRENCE-KING
Le harpiste virtuose Andrew Lawrence-King est l'un des interprètes de musique ancienne les plus reconnus mondialement. Chef d'orchestre et de musique de chambre, joueur de basso continuo imaginatif, spécialiste de la gestuelle baroque et compositeur d'opéra, il peut être considéré comme le grand virtuose de la harpe ancienne. Tout en dirigeant et jouant le basso continuo sur la harpe, l'orgue, le clavecin ou le psaltérion, il a interprété de nombreux opéras et des oratorios à la Scala de Milan, à l'Opéra de Sydney, au Casals Hall de Tokyo, à la Philarmonie de Berlin, au Konzerthaus de Vienne, au Carnegie Hall de New York et au Palacio de Bellas Artes de Mexico. La revue « Gramophone » a décrit son récital de Bach comme « une 17 musique enchanteresse d'une beauté de filigrane, jouée avec une virtuosité tranquille et enivrante, doublée d'une sensibilité exceptionnelle ».
En 1994 Andrew Lawrence-King fonde l'ensemble The Harp Consort avec lequel il a enregistré une série de CD récompensés par de nombreux prix. Ces disques vont de chansons médiévales traditionnelles à des danses sud-américaines en passant par de nombreux opéras baroques. Il enseigne à la Guildhall School of Music & Drama de Londres ainsi qu'à la Royal Academy of Music de Copenhague, et dirige Il Corago, l'International Baroque Opera Studio et l'OPERA OMNIA à Moscou. Il est également le principal chef d'orchestre invité de l'orchestre Concerto Copenhagen. Bientôt l'Academy of Basso Continuo sera ouverte en ligne.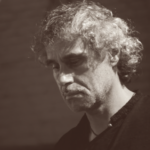 DIMITRI PSONIS
Dimitri Psonis a commencé à Athènes, sa ville natale, ses études d'analyse musicale, d'harmonie, de contrepoint, de musique byzantine et d'instruments populaires grecs. Il est membre fondateur des groups de percussion Krustá, Aula del Conservatorio de Madrid, P'An-Ku et du Trío de Marimbas Acroma. Il a collaboré avec le Teatro Clásico Nacional sous la direction d'Adolfo Marsillach dans les pièces de théâtre Fuenteovejuna et La Gran Sultana et également avec la compagnie de théâtre Dagoll Dagom dans El Gran Mikado. Il collabore avec de nombreux groupes de musique ancienne : Hespèrion XXI, Le Concert des Nations, Sema, Speculum, Ensemble Baroque de Limoges.
Il a accompagné de nombreux chanteurs et musiciens parmi lesquels : Elefthería Arvanitaki, Maria del Mar Bonet, Eliseo Parra et Javier Paxariño. Dans les dernières années, il s'est consacré à l'étude et l'interprétation de la musique classique ottomane et de la musique populaire de Grèce et de Turquie et à leurs instruments : santur et tar iraniens, saz et oud turques, santur et laouto grecs et tous les instruments de percussion de cette région (zarb, riq, bendir…). Il a fondé le groupe Metamorfósis et plus tard Misrab avec Pedro Estevan et Ross Daly.