☆ CONCIERTO DE GALA ☆ GROTTE DE LOMBRIVES ☆ 11-09-2021 ☆ 20.30 -21.30 ☆ 
☆ FRANÇAIS ☆ DEUTSCH ☆ ENGLISH  ☆ NEDERLANDS ☆
HESPÈRION XXI
El valor más importante de la música antigua reside en su capacidad, como lenguaje artístico universal, para transmitir sensibilidades, emociones e ideas ancestrales que, aún en nuestros días, cautivan al espectador. Con un repertorio que va desde el siglo X al XVIII, Hespèrion XXI busca permanentemente nuevos puntos de encuentro entre Oriente y Occidente, con una clara voluntad de integración y recuperación del patrimonio musical internacional, particularmente en la zona mediterránea y en conexión con las músicas del Nuevo Mundo americano.
El repertorio de Hespèrion XXI incluye, entre otras piezas, obras del repertorio sefardí, romances castellanos, piezas del Siglo de Oro español y de la Europa de las Naciones. Algunos de sus más aplaudidos conciertos han sido Las Cántigas de Santa María de Alfonso X el Sabio, La Diáspora Sefardí, las músicas de Jerusalén, Estambul, Armenia o las Folías Criollas. Gracias al gran trabajo realizado por los numerosos músicos y colaboradores que han participado en el conjunto a lo largo de todos estos años, Hespèrion XXI desempeña aún un papel clave en la recuperación y la revalorización del patrimonio musical, con una repercusión a escala mundial. Con más de 60 discos compactos editados, el grupo da actualmente conciertos en todo el planeta y participa 15 habitualmente en festivales internacionales de música antigua.
JORDI SAVALL
Jordi Savall es una de las personalidades musicales más polivalentes de su generación. Desde hace más de cincuenta años, da a conocer al mundo las maravillas musicales abandonadas en la obscuridad, la indiferencia y el olvido. Él descubre e interpreta estas músicas antiguas, en su viola de gamba o como director. Sus actividades de concertista, pedagogo, buscador y creador de nuevos proyectos, tanto musicales como culturales, le sitúan entre los principales actores del fenómeno de revalorización de la música histórica. Ha fundado con Montserrat Figueras, el grupo Hespèrion XXI (1974), La Capella Reial de Catalunya (1987) y El Concierto de las Naciones (1989) con los que ha explorado y creado un universo de emociones y belleza que difunde en todo el mundo para la dicha de millones de aficionados a la música.
A lo largo de su carrera, ha grabado y editado más de 230 discos con repertorios medievales, renacentistas, barrocos y clásicos, con especial atención al patrimonio musical hispánico y mediterráneo. Este trabajo ha sido recompensado con frecuencia con numerosos premios como varios Midem Awards, International Classical Music Awards y un Grammy Award. Sus programas de conciertos han sabido convertir la música en un instrumento de mediación para el entendimiento y la paz entre pueblos y culturas diferentes, a veces en conflicto. No es casualidad que en 2008 Jordi Savall fuera nombrado Embajador de la Unión Europea para un diálogo intercultural y, junto a Montserrat Figueras, «Artista para la Paz», en el marco del programa «Embajadores de Buena Voluntad» de la UNESCO.
Su fecunda carrera musical ha sido coronada con recompensas y distinciones tanto nacionales como internacionales de las que al menos podemos citar el prestigioso premio Léonie Sonning, considerado como el Premio Nobel para la música. «Jordi Savall pone de relieve una herencia cultural común infinitamente diversa. Es un hombre de nuestro tiempo». (The Guardian, 2011).
MARC MAUILLON
'Cantante fuera de lo normal, ¿cómo definir mejor a Marc Mauillon?' (Michel Parouty, Opéra Magazine 02/2017).
Por la amplitud y singularidad de su repertorio, su sello tan reconocible y su dicción cincelada, Marc Mauillon ocupa un lugar muy personal en la escena lírica actual. A veces barítono, a veces tenor, este camaleón despliega y adapta sus colores según las músicas, repertorios y personajes que encuentra. Por ejemplo: Mozart, Machaut, Monteverdi, Offenbach, Lully, Dupin, Rameau, Debussy, Caccini, Purcell, Poulenc, Strasnoy… Pero también: W. Christie, M. Minkowski, R. Pichon, C. Rousset, A. Altinoglu, J. Savall, V. Dumestre, H. Niquet, E. Haïm, L. Campellone, M. Pascal, G. Jourdain…Y aún: L. Hemleb, D. Warner, B. Lazar, I. Alexandre, R. Carsen, J. Mijnssen… Sin olvidar: P. Hamon, V. Biffi, A. Mauillon, G. Coppola, A. Le Bozec…
Desde la monodia a cappella hasta las grandes formas con coro y orquesta como la ópera, pasando por la música de cámara tan querida a su corazón, él camina alegremente a través de muchos lugares, lenguajes, épocas, estilos, personalidades en cuyo contacto continúa con pasión encontrando su voz.
ANDREW LAWRENCE-KING
El arpista virtuoso Andrew Lawrence-King es uno de los intérpretes de música antigua más reconocidos mundialmente. Director de orquesta y de cámara; intérprete imaginativo de bajo continuo, especialista en la gestualidad barroca y compositor de ópera, puede considerarse como el gran virtuoso del arpa antigua. Combinando la dirección y el bajo continuo, tocando el arpa, el órgano, el clavecín o el salterio, ha interpretado numerosas óperas y oratorios en la Scala de Milán, en la Ópera de Sídney, en el Casals Hall de Tokio, en la Filarmónica de Berlín, el Konzerthaus de Viena, el Carnegie Hall de Nueva York y el Palacio de Bellas Artes de México. La revista «Gramophone» ha descrito su recital de Bach como «una música encantadora de una belleza de filigrana, tocada con un virtuosismo tranquilo y embriagador, acompañado de una sensibilidad excepcional».
En 1994, Andrew Lawrence-King fundó el conjunto The Harp Consort, con el que grabó una serie de discos compactos galardonados con numerosos premios. Estos discos van desde canciones medievales tradicionales a danzas sudamericanas, pasando por numerosas óperas barrocas. Es profesor en la Guildhall School of Music & Drama de Londres, así como en la Real Academia de Música de Copenhague y dirige Il Corago, la International Baroque Opera Studio, y la Opera Omnia en Moscú. Es igualmente el principal director de orquesta invitado de la orquesta Concerto Copenhagen. Muy pronto abrirá la Academy of Basso Concerto en línea.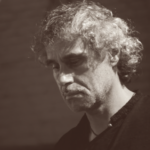 DIMITRI PSONIS
Dimitri Psonis comenzó en Atenas, su ciudad natal, sus estudios de análisis musical, armonía, contrapunto, música bizantina e instrumentos populares griegos. Miembro fundador de los grupos de percusión Krustá, Aula del Conservatorio de Madrid, P'An-Ku y Trío de Marimbas Acroma. Colaboró con el Teatro Clásico Nacional Español, bajo la dirección de Adolfo Marsillach, en las obras de teatro Fuenteovejuna y La Gran Sultana y también con la compañía de teatro Dagoll Dagom en El Gran Mikado. Colabora con numerosos grupos de música antigua: Hespèrion XXI, Le Concert des Nations, Sema, Speculum, Orquesta Barroca de Limoges.
Ha acompañado a numerosos cantantes y músicos, entre ellos: Elefthería Arvanitaki, María del Mar Bonet, Eliseo Parra y Javier Paxariño. En los últimos años se ha dedicado al estudio e interpretación de la música clásica otomana y de la música popular de Grecia y Turquía y sus instrumentos: santur y tar iraníes, saz y ud turcos, santur y laouto griegos y todos los instrumentos de percusión de esta región (zarb, riq, bendir…). Fundó el grupo Metamorfosis y más tarde Misrab con Pedro Estevan y Ross Daly.