☆ GALA CONCERT ☆ GROTTE DE LOMBRIVES ☆ 11-09-2021 ☆ 20.30 -21.30 ☆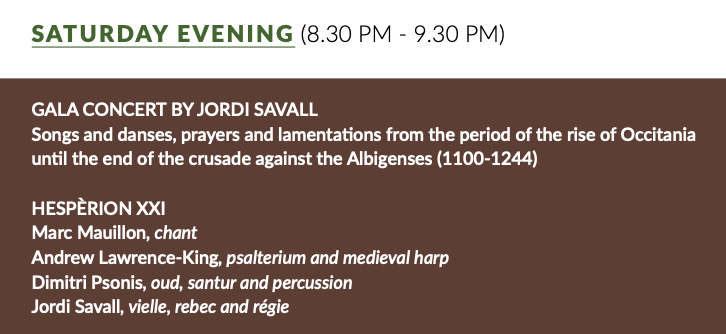 ☆ FRANÇAIS ☆ DEUTSCH ☆  ESPAÑOL ☆ NEDERLANDS ☆
HESPÈRION XXI
The most important value of ancient music lies in its ability to transmit as universal, artistic language the emotional value of our ancestors, their emotions and ideas that can still fascinate the audience. With a repertoire varying from the 10th tot the 18th century, Hespèrion XXI is constantly looking for new encounters between East and West, with an evident preference for integrating and restoring international musical heritage, specifically in the Mediterranean Area and in the music of the New World of America.
The repertoire of Hespèrion XXI includes works from the Sephardic repertoire, Castilian romances, pieces from the Spanish Golden Age and European countries. Some of their most praised concerts were Alfonso X el Sabio's Las Cantigas de Santa Maria, La Diàspora Sefardí, music from Jerusalem, Istanbul, Armenia, or the Folías Criollas. Thanks to the great work of the many musicians and co-workers who have participated in the ensemble over the years, Hespèrion XXI continues to play a key role in the recovery and revaluation of the musical heritage, with worldwide repercussions. With over 60 15 CDs released, the group now gives concerts all over the world and often participates in international early music festivals.
JORDI SAVALL
Jordi Savall is one of the most versatile musicians of his generation. For more than fifty years he has been introducing the world to forgotten musical wonders. He digs up this early music from the archives and performs it on his viola da gamba or as a conductor. His activities as a concert artist, pedagogue, researcher and creator of new projects, both musical and cultural, make him one of the protagonists in the revaluation of historical music. Together with Montserrat Figueras, he founded several ensembles, such as Hespèrion XXI (1974), La Capella Reial de Catalunya (1987) and Le Concert des Nations (1989), opening up a universe of feeling and beauty and making it accessible to millions of music lovers worldwide.
Over the course of his career, he has recorded more than 230 records from this medieval, renaissance, baroque and classical repertoire, with a special focus on Spanish and Mediterranean musical heritage. His work has been awarded numerous prizes,
such as several Midem Awards, International Classical Music Awards and a Grammy Award. In concerts, his music bridges the gap between peoples and cultures, which are very different and sometimes even in conflict with each other, and creates mutual understanding and peace. It is therefore no coincidence that Jordi Savall was appointed Ambassador of the European Union for Intercultural Dialogue in 2008 and, together with Montserrat Figueras, Artist for Peace, under the UNESCO Goodwill Ambassadors program.
His rich musical career has been recognized with both national and international prizes and accolades, including the prestigious Léonie Sonning Prize, which is considered the Nobel Prize in music. "Jordi Savall bears witness to an infinitely diverse common cultural heritage. He is indispensable in our time." (The Guardian, 2011).
MARC MAUILLON
'A singer outside of every category, how could we define Marc Mauillon better?' (Michel Parouty, Opéra Magazine 02/2017)
Due to the scope and individuality of his repertoire, his recognizable timbre and his perfect diction, Marc Mauillon occupies a unique and personal place in the current music scene. Now baritone, then again tenor, this chameleon knows how to merge his color with the music, the repertoire or the characters he embraces.
A selection from his range: Mozart, Machaut, Monteverdi, Offenbach, Lully, Dupin, Rameau, Debussy, Caccini, Purcell, Poulenc, Strasnoy … But also: W. Christie, M. Minkowski, R. Pichon, C. Rousset , A. Altinoglu, J. Savall, V. Dumestre, H. Niquet, E. Haïm, L. Campellone, M. Pascal, G. Jourdain … And further: L. Hemleb, D. Warner, B. Lazar, I. Alexandre, R. Carsen, J. Mijnssen … and let us not forget: P. Hamon, V. Biffi, A. Mauillon, G. Coppola, A. De Bozec…From solo a cappella with simple chord accompaniment, to major forms of music with choir and orchestra, such as the opera, he easily turns towards chamber music (which is close to his heart) and then moves cheerfully through numerous places and languages, eras, styles and personalities; always looking for the best way to let his special voice resound.
ANDREW LAWRENCE-KING
The virtuoso harpist Andrew Lawrence-King is one of the world's most recognized interpreters of early music. He is not only known as an orchestral conductor and chamber music conductor, as an inventive basso continuo player, as a specialist in Baroque gestures and as an opera composer, but he is also regarded as one of the greatest virtuosos of the ancient harp. Conducting from his role as basso continuo player on the harp, organ, harpsichord or psalterium, he has performed numerous operas and 17 oratorios in La Scala in Milan, in the Sydney Opera House, in the Casals Hall in Tokyo, in the Berliner Philharmoniker, the Konzerthaus in Vienna, the Carnegie Hall in New York and the Palacio de Bellas Artes in Mexico City. Gramophone magazine described his Bach recital as "enchanting music of gossamer beauty, performed with calm and intoxicating virtuosity, coupled with exceptional subtlety".
In 1994 Andrew Lawrence-King founded the ensemble The Harp Consort with which he recorded a series of CDs that have been awarded numerous prizes. The recordings range from traditional medieval songs and South American dances to countless baroque operas. He teaches at the Guildhall School of Music & Drama in London and at the Royal Academy of Music in Copenhagen, and directs Il Corago, the International Baroque Opera Studio and the OPERA OMNIA in Moscow. He is also the permanent guest conductor of the Concerto Copenhagen Orchestra. Within soon the Academy of Basso Continuo will go online.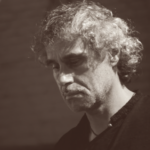 DIMITRI PSONIS
Dimitri Psonis started in Athens, his native city, with the study of musical analysis, harmony, counterpoint, Byzantine music and Greek folk instruments. He is one of the founders of the percussion groups Krustá, Aula del Conservatorio de Madrid, P'An-Ku and Trío de Marimbas Acroma. He worked together with the Teatro Clásico Nacional under the direction of Adolfo Marsillach in the plays Fuenteovejuna and La Gran Sultana and also with the theater company Dagoll Dagom in El Gran Mikado. He cooperates with many early music groups: Hespèrion XXI, Le Concert des Nations, Sema, Speculum, Ensemble Baroque de Limoges.
He also accompanied many singers and musicians, including: Elefthería Arvanitaki, Maria del Mar Bonet, Eliseo Parra and Javier Paxariño. In recent years he has devoted himself to the study and interpretation of Ottoman classical music and popular music from Greece and Turkey and their instruments: the Iranian santur and tar, Turkish saz and oud, the Greek santur and laouto and all percussion instruments of this region (zarb, riq, bendir…). He founded the group Metamorfósis and later Misrab with Pedro Estevan and Ross Daly.